Chiayi 嘉義 is sandwiched between Yúnlín 雲林 and Tainan 台南 in south western
Taiwan 台灣
and its sleepy Chiayi City is centrally located in the heart of Chiayi County. For many tourists—especially those from abroad, there is no sufficient reason to visit Chiayi City. The unruffled city was long referred not a destination itself worth spending much time in, but a gateway for places with more distinguished names, notably popular Alishan in the mountains to the east.
This unassuming yet relaxed city doesn't mean it has nothing to offer. It's a quintessential paradise for anyone who dotes an an off beaten track adventure. The city's trove is rich of Southern charm and traditional well-preserved culture all through out. Read on to get to know more about Chiayi...
How to get to Chiayi
Via Kaohsiung International Airport:
The nearest international airport to Chiayi is Kaohsiung International Airport. There are direct flights from Manila via China Airlines, Seoul via Jeju Air, Hong Kong via Cathay Pacific, and more.
Via Taoyuan Airport:
Usually visitors from Manila will come from Taoyuan International Airport.
From Taipei:
You need to book an THSR train from
THSR Taipei Station
.
* You may want to book an
unlimited THSR pass
especially if you're staying longer in Taiwan and plan to visit other places.
How to get to Chiayi City from THSR Chiayi Station:
Getting Around Chiayi
The Chiayi TRA Station is a major area to catch the highspeed line, and has a free shuttle bus (BRT buses) that will take you to THSR Chiayi Station and vice versa. You'll find the bus terminal by crossing the foot bridge from the front exit of Chiayi TRA Station to the rear exit.
One of the best ways to tour around Chiayi is practically choosing a ride that is the most favored transportation in the whole of Taiwan which is a scooter or a bicycle. You can rent a scooter or a bicycle to save your feet the hassle and you won't have to worry about the traffic. When you have a scooter or a bicycle it's extremely easy to zip around your neighborhood or even the city.
Best Time To Visit Chiayi
Summer (June through August)
The middle-year months have very comfortable weather with high temperatures that are quite warm. These months see the most precipitation with 10 to 13 days of precipitation per month. June – August is fairly slow season for tourism in Chiayi City, so lodging and other accommodations may cost slightly less.
Fall (September through November)

Fall daily highs range from 89.2°F (31.8°C) and 76.5°F (24.7°C), which will feel very nice given the humidity and wind. It rains or snows a normal amount: 2 to 5 days per month. Tourism is the busiest during these months due to the weather, so hotels may be higher priced.
Winter (December through February)
Weather is somewhat cool this time of year in Chiayi City to be enjoyable for warm weather travelers. The average high during this season is between 77.3°F (25.2°C) and 69.8°F (21°C). On average, it rains or snows a smalll amount: 1 to 2 times per month. These times of year are the slowest with tourists.
Spring (March through May)
Humidity and temperatures combine to make this season feel warm. Highs range from 87.3°F (30.7°C) and 74.2°F (23.4°C) with warmer temperatures in the later months. Rain is somewhat common with 1 to 8 days of significant precipitation per month. Spring is the second busiest for tourism, which makes it a good time for those looking for things to do.
What to do in Chiayi
1. Hinoki Village 檜意森活村
The Hinoki Village or Cypress Forest Life Village is a cultural village park in East District, Chiayi City, Taiwan. It consists of 28 wooden Japanese-style dormitories that serves as the remnants left behind from the logging activities decades ago. These structures were built using
hinoki
(cypress wood) which is known as highly resistant to rot, a beautiful deep burgundy, and whose oil gives off a citrus-y woody smell for an invigorating feel.
Today, there are some shops and dainty cafes and restaurants, as well as mini-museums. You'll find locals peddle their creative works that are a perfect fit as souvenirs in the village. The village also holds art exhibitions and Instagram worthy art installations from time to time. You can also rent a kimono for a fee and experience a dip in their Japanese style public bathhouse. If you want to experience a taste of Japan then Hinoki Village is for you.
Location:
No.1, Linsen E. Rd., East Dist., Chiayi City 600, Taiwan (R.O.C.)
Opening Hours:
10:00-18:00
Price:
TWD 0
2. National Chung Cheng University 國立中正大學
One of the reasons why I am enticed to go to Chiayi is because of National Chung Cheng University. If you know the Taiwanese drama series, Meteor Garden 流星花園, this university is one of its major campus film location and it is known as Ying De University on film. Meteor Garden became so popular in the Philippines way back in 2001 and getting to relieve your Meteor Garden fantasies finding Dào Míng Sì 道明寺, Dǒng Shān Cài 董杉菜 or even Huā Zé Lèi 花澤類 is one of the most surreal moment as you explore this beautiful campus. The buildings are truly unique and its surrounded by beautiful scenery. It's right out in the middle of nowhere and you can get there by bus for pretty cheap.
Location:
No. 168, Section 1, Daxue Road, Minxiong Township, Chiayi County, 62102, Taiwan (R.O.C.)
Price:
TWD 0
How to get there:
From Chiayi City, you can take bus number 7309 from a bus stop station adjacent to the TRA Chiayi Station's front entrance.
3. Wenhua Road Night Market 文化路夜市
Wenhua Road Night Market is Chiayi's most popular local night market, although not as famous as
Taipei's Shilin Night Market 士林夜市
and not as bigger as
Taichung's Fengjia Night Market 逢甲夜市
. Every night, peddlers offers the newest fashion and variety of goods, as well as hawkers selling local delights 小吃. In a blink of an eye, 500-meter long road is turned into a hustling thoroughfare. Stores by the road and hawkers serving steaming hot gourmet snacks attract flocks of people every night.
Location:
Wenhua Road, East District, Chiayi City 600, Taiwan (R.O.C.)
Price:
TWD 0
4. Alishan National Scenic Area 阿里山國家風景區
Alishan National Scenic Area is located in the far east part of Chiayi County almost near the border of Nantou County 南投. It's dominated by the majestic Alishan Mountains and ridges of Yushan 玉山 (Jade Mountain, the highest mountain in Taiwan) which features stunning sunrise, bewildering sunsets, sea-of-clouds peaks, and lush green valleys.
The area is home to Tsou aboriginal villages, known for tea production. There are many forest trails inside the recreation area, providing great opportunities for travellers to get close and appreciate nature. One of which is The Giant Tree Plank Trail boardwalk which winds past huge cypress trees, including the fallen Alishan Sacred Tree. There are also picturesque lakes inside the area providing a magical experience, one of which is the Sisters Pond.
You can book a hassle free day tour from
Chiayi City to Alishan via KKDay
which includes an Alishan Forest Railway ticket, Alishan Forest Recreation Area admission fee,
bento
lunch, transportation, and insurance so you can enjoy a stress free trip. You will also get the chance to stop over these additional locations:
Fenqihu
and
Hinoki Village
.
Photo by Wentao (
flickr.com
).
Location:
605, Taiwan, Chiayi County, Alishan Township, 中正村59號
Opening hours:
24h every day
Booking:
KKday
for a hassle free tour (Includes Alishan Forest Railway ticket, Alishan Forest Recreation Area admission, lunch, transportation, and insurance)
How to get there:
If you want to explore Alishan on your own, you can go to Chiayi TRA Station and take a direct bus (
Alishan Route B
) to Alishan for TWD300 (per way), which runs between 10:00am to 11:30am. Alternatively, you can take non-direct buses that cost TWD221 per way. Travel time to Alishan is about 2.5 hours. Take note that the lust bus to Alishan is at 2pm and the last bus back to Chiayi leaves at 5:10pm (found near Alishan's 7-Eleven shop).
Alishan Forest Recreation Area Admission Fee:
NT$150 per person via public transport, NT$200 per person via car, and NT$100 per person for concessions.
5. Minxiong Ghost House 民雄鬼屋
In a countryside, north of Chiayi City, in a small town called Minxiong, on a nearly endless expanse of rice paddies of Chainan Plain 嘉南平原, there's an old abandoned traditional Taiwanese courtyard mansion — well known in the area as a haunted house — the Mínxióng Ghost House, also known as Liu Family Mansion 劉家古厝 for some. This old baroque revival style red brick three-story home is one of the most famous ruins in all Taiwan and it was built in 1929 for Liú Róngyù 劉溶裕, a businessman with seven children. The house has been empty sometime in the early 1950s since the Japanese colonial rule and is now slowly being reclaimed by nature.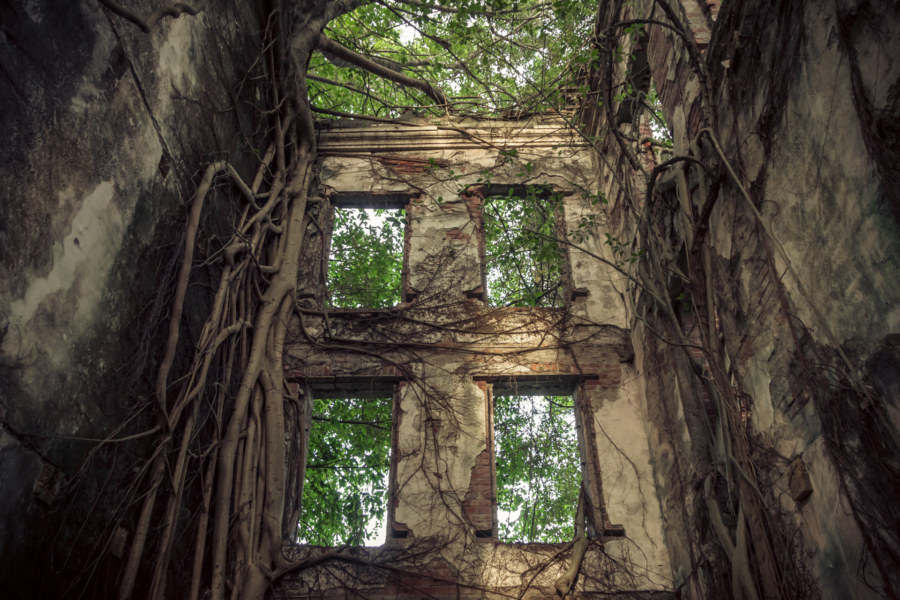 Photo by Alexander Synaptic (
synapticism.com
).
Photo by Alexander Synaptic (
synapticism.com
).
Price:
TWD 0
Location:
Minxiong Ghost House
, Xingzhong Village, Minxiong Township, Chiayi County 621, Taiwan (R.O.C.)
Nearest public transport:
Minxiong TRA Station
Opening hours:
24h every day
How to get there:
Getting to the old haunted house from Chiayi City or from downtown Minxiong is best if you have a scooter or a bicycle to save you more time. So it is recommended that you might want to rent a scooter or a bicycle or charter a taxi. If you want to go there via public commute you can to, but not advisable. I am not sure if they allow bicycles on buses and trains, probably not. From Chiayi TRA station you can get to Minxiong TRA Station by
train
(TWD15). Alternatively, you can ride
bus number 106
(TWD62) going to TRA Minxiong Station. From there, follow Wenhua Road southward for about one kilometer, you'll see a sign (in Chinese only) pointing to the left. Take this road. After a few hundred meters, there's a small T-junction. You'll easily see the red brick haunted house behind some trees to the left end of the lane.
Where to stay in Chiayi
For first time travellers to Chiayi, finding an accommodation can be really tricky, especially if you plan to stay for a night or so. It would be best to choose a hotel, hostel, or an Airbnb near the Chiayi TRA Station. Here are some options which you can choose from:
Hotel Liyaou 里亞行旅
For our first night in Taiwan, we stayed at
Hotel Liyaou
. It's walking accessibility to Chiayi Train Station (Chiayi TRA Station) and it's close proximity to restaurants, cafes, shops, Wenhua Night Market and other tourist attractions, makes this hotel an absolute "must-stay" in Chiayi, Taiwan.
Airbnb
You can book also book an Airbnb rental in Chiayi and you may want to get a PhP1,600 travel credit when you sign up at
Airbnb
via my referral link.
Get a Travel Insurance
The Verdict
Old, slow-paced Chiayi offers a laid-back destination for every travellers. If you want a little off-beaten adventure to Taiwan then you can't miss Chiayi in your itinerary. Here's my
comprehensive travel guide and DIY itinerary to Taiwan
for 6 days in
Chiayi
,
Taichung
, and
Taipei
.
Read my other Taiwan Travel Series:
What do you think of Chiayi? Which of the following spots do you like the most? Have you been to Chiayi before? I'd love to hear your thoughts in the comment box below.