18 October 2019
Kabayan, Benguet, Philippines
Being born in the
city of Baguio
, an unassuming city; and having been raised in it's nearby land of
Itogon
, a laid-back mining municipality—both of which are in the charming
Benguet
of the Cordilleran mountains—attributed my deep-rootedness for the mountains. The mountains have always given me a sense of purity and calmness, from mossy forests, to the different hues of mountain lakes, to its boastful waterfalls, to divine rivers, and lush green fields.
Last month, I went north of Baguio on a "
not-so-solo
" climb to witness the beauty of — no other than the glorious
Mt. Pulag
. Mt. Pulag is an unexpected last-minute solo trip; it is supposed to be a road-trip back again to Sagada with my long-time partner. But since, he has last-minute urgent projects to finish at the time, he can't go (even if he badly wants to,
awww
). I opted to participate in a
joiner
tour to Mt. Pulag by Agetyeng Travel and Tours (my partner and I have booked our Beijing-China tour with the same agency December last year.). This is my first time to climb Mount Pulag.
The glorious Mt. Pulag
Mt. Pulag is the highest mountain in Luzon and the third highest in the
Philippines
, next to Mt. Apo and Mt. Dulang-Dulang. It looms over Benguet ranges, a craggy mountain at 2,926 masl yet proud of its challenging trails and its own natural beauty — like something out of "Lord of The Rings". It boasts crayola green pinetrees, magical mossy forests and a vast grassy land ala New Zealand to boot. For a lot of travellers, this is the whole reason they visit: get up at an un-godly hour either 12 midnight or at 3 a.m., drink several cups of strong coffee, watch the sunrise and witness the elusive stunning sea of clouds over the peak.
Which trail should I take?
If you are coming from Benguet then there are three trails available if you wish to reach Mt. Pulag. There's also another trail to the summit but starts at Nueva Vizcaya.
1.
Ambangeg Trail
- Also known as "
Artista Trail
", the easiest and safest trail up Mount Pulag. One will reach the summit for just 3-4 hrs.
2.
Akiki Trail
- It is more suited to experienced climbers and can take more than two to three days to finish.
3.
Tawangan Trail
- Starts at Kabayan, Benguet and could be difficult for inexperienced climbers as the trail is steep as Akiki.
4.
Ambaguio Trail
- Starts at Nueva Vizcaya and you can reach the summit after three days.
On this post, I will be discussing about
Ambangeg Trail
as it is the easiest and it is very well suited for beginner's.
What sort of stuff should I pack?
Hold your horses, before you climb Mt. Pulag you should know what to bring especially if it's your first time. The travel agency was very kind enough to give us tips and what to pack before our trip, so I am also sharing it you. Also, I'll be adding some that I think you will need.
Medical certificate. Issued by any doctor to certify that you are fit to climb. NO medical certificate, NO climb.
Backpack. A good hiking bag is a must.
Flash-light/headlamp.
5 layers of clothing:2 shirts (non-cotton), thick long-sleeves sweater (fleece preferred), jacket w/ hood, rainproof jacket and pants
Thick bonnet, scarf, gloves, socks ;...and/or thermal wears (if you have) or anything to heat you up. Temperature can be freezing cold down to 0°C-7°C up there especially during the -ber months.
Mess kit. Spoon, fork, and cups.
Food, snacks, water. Bring a water bottle preferably 2-3 liters capacity and bring lots of food. You need usable energy for your body.
Waterproof everything! Wrap all your clothes, things, bag/s with plastic bags to prevent from moist and unexpected rain.
Hiking shoes w/ good sole traction.
Rain gear. Raincoat or you can use a make-shift rain coat using a 'trash-bag'. Definitely no umbrellas. Or you may want to bring one but choose an ultra-lightweight folding umbrella that you can easily fit into your bag.
First aid kit and personal medicines. Also, bring your personal emergency kit just in case you have personal needs.
Toiletries. wipes, tissue paper, and toothbrush. Also soap, shampoo, and towel if you plan to wash-up before and/or after the climb.
Camera. Take lots of photos during the trip. It's best if you bring extra memory cards with you.
Powerbank. There's electricity at the ranger station and you may charge your gadgets here for a fee (PhP50.00/charge). But of course, once you're up at the proper mountain, nada!
Tent, sleeping bag, and sleeping pad. If you are camping you definitely need these. These are also available for rent at Babadak Ranger Station. So if you don't have any, you don't need to worry about buying.
Cook wares, butane, and portable stove. Needed if you want to camp at the camping sites in Mt. Pulag. Also available for rent just ask your local guide.
How much is the rent for the tent, sleeping bag, and sleeping pad? Well, I'll tell you about it later.
What should I wear?
Benguet's temperature can change from hour to hour as Mount Pulag's climate is pretty temperamental. Rain can sweep in without notice and nights get freezingly icy. Generally you might want to wear multiple light layers - preferrably wear non-cotton. On the first day, wear dri-fit shirts or sleeves and a light rainproof jacket. Of course a good hiking shoes is a must have.
Once you're up on the mountain proper, it can get really cold, especially at the camp during the night so switch immediately from your sweaty clothes to dry ones, thermals if you have, trousers, thick socks, fleece or bubble jackets. They key is to layer about 3 to 5 layers. Switch between what makes you cool and at the same time warm. For the dawn summit, grab head torch, bonnets, and gloves. Don't forget to pack-in a raincoat just in case and waterproof everything.
When is the best time to visit?
Being a local of Benguet myself, rainy season is from June to September so you might want to book during the dry season. But again, due to its high elevation Mt. Pulag is temperate with rains predominating the whole year. December, January, and February are the coldest but the peak season, meaning hordes of hikers. Frost can be common due to the low temperature during those months. Best month is after the rainy season as you've got better chance to see the sea of clouds. March, April, and May are fine too and equally pleasant if you're not comfortable with extremely cold low temperatures. I visited Mt. Pulag after a storm late September and had the chance to see the cotton candy sea of clouds while watching the sun rises at the horizon.
How to get there?
The Mt. Pulag Tour organized by the travel agency includes transportation from Baguio to Mt. Pulag and vice versa. But if you plan to do it DIY-style you may.
NOTE:
First things first, if you want to climb Mt. Pulag
secure your climb reservation
via DENR Mt. Pulag Office in advance; preferably a month or two before your planned trip. Strictly,
NO reservation, NO climb
.
NOTE:
For peak season travel, I recommend locking in your spot at least 6 months in advance.
NOTE:
To get your climb reservation, you may contact the following numbers
09127628844
,
09103010423
,
09106412678
, and
09261626786
between 8 a.m. to 5 p.m., from Mondays to Fridays.
From MANILA to Baguio: ride a bus going to Baguio via Victory Liner or Genesis/Joy Bus (both transit companies have terminals located at Pasay and Quezon City).


Bus fare:


Genesis-Joy Bus - P450 Regular, P755 Deluxe
Victory Liner - P455 Regular, P750 First Class

Travel time: Manila to Baguio - Approx. 4-7 hrs.

From BAGUIO to Kabayan via bus or van:


From Baguio, hail a taxicab going to Old Slaughterhouse Terminal. Tell the driver to drop you off at the van terminal of Kabayan (first trip leaves at 7 a.m.).

Ask the van driver to drop you off near the DENR Visitor Center Station.


Van fare: P150
Travel time: Baguio to DENR Station - Approx. 2-3 hrs.

Proceed to DENR Visitor Center Station in Ambangeg, Daclan, Bokod, Benguet. You need to register here first before your climb—log-in your names, pay the fees, and complete the prerequisites (they require a medical certificate to see if you are qualified to climb)—and attend a 30-minute pre-climb orientation.


Entrance Fee: P175/person


Foreigners: Peso equivalend of 15 USD

Environmental Fee: P150/person
Camping Fee: P100/person

Outside the DENR Station, there are motorcycle or "habal-habal" drivers to bring you to Babadak Ranger Station (if your hike is via the Ambangeg Trail).


Habal-habal Fee: P250/person

At the Babadak Ranger Station you can hire a local guide (strictly mandated, you must) or a porter (if need be) to take you to the summit.


Guide Fee: P600 per 1-5 persons


Above 5 person: P120/person
Foreigners: P800 per 1-5 persons

Porter Fee: P750/15 kilos max.
Where should I stay?
There are actually three options for you:
1.
Home stays at the Babadak Ranger Station
- There are a number of home stays that you can book if you want a more comfortable option. In case all home stays are full, you can opt to camp.
Homestay rates may vary as low as PhP 200.00/person.
2.
Camp at the Babadak Ranger Station
- If you want to try camping amongst the clouds you may do so. Camping here feels more like backyard camping as it provides you a more accessible comfort to amenities that you need.
Camping fee: PhP 100.00/person.
3.
Camp at Camp 2
- Want a more challenging camping experience, but closer to the stars? Then try camping mid-trail to summit at Camp 2. From here you will reach the summit for about an hour and a half only. If you don't bother carrying lots of things while hiking up the mountain, this one is for you.
Camping fee: PhP 100.00/person.
Some important camping notes
NOTE: Camping at Camp 2 is only allowed from Mondays to Thursdays only (NOT allowed for Fridays-Sundays, and National Holidays). Otherwise, home stays and camping options at the ranger station are available everyday.
NOTE:No camping gears? No worries you can rent equipments at the Babadak Ranger Station.


Tent - P150.00/person
Sleeping Bag - P150/person
Sleeping/Earth Pad - P50.00/person

NOTE: If you want total privacy and don't want to share a space with another person, you can rent the whole tent, but of course, you have to pay for the extra. Or just bring your own to set up and carry. I move around (a lot) when I sleep and I'm too embarrassed to share with another person, so I paid P300 for the whole two-person tent. Yes, I'm worried that I might attack the other person at night, haha.
VERY IMPORTANT NOTE: Bonfires are not allowed especially at the camping sites up the mountain proper. Cooking w/ portable stove is okay but strictly supervised by the local guide and/or park rangers and should only be done at the designated area.
Where to dine
There are no available restaurants at the Babadak Ranger Station (and of course, up the mountain) but you can ask the locals to cook for you for a fee. Try the "pinikpikan"- a native chicken dish stew, it's the perfect cold weather combo. This local dish is done by "beating" (pik-pik) a live chicken to death and thrown in an open fire to remove the feathers with it, giving that a delectable heavenly taste. Pair it with
labuyo
(dragon's breath chili), soy sauce, and a steaming hot rice and you're in for a local food experience.
Three Side Trips
If you have your own vehicle you may opt to do these worth visiting 3 side trips, preferably on the way to Mt. Pulag. If you rented a monster jeep or van you may asks for arrangements with your driver to visit these spots.
1.
Ambuklao Dam
- Nestled Northeast from Baguio City, for just an hour and a twenty, one gets a glimpse of Ambuklao Dam. The long uphill climb from the city of pines to Ambuklao rewards you with soaring misty mountains and sweet-scent of Benguet's pine trees. Along Agno River, this gray concrete ancient monstrosity takes one's breath away. The dam's catch-basin with a backdrop of Bokod's glorious mountains makes one just stop and contemplate at it's emerald still-waters. (Entrance fee:
FREE
)
2.
Jang Jang Bridge
- Jang Jang Bridge is situated near an eatery so it's not too hard to miss, especially if you're looking to consider having breakfast along the way to Mt. Pulag. It is 290 meters long and it is considered as one of the longest hanging bridges in Benguet. This bridge has became a favorite pictorial spot for tourists. According to our driver, since the influx of tourists,
the locals decided to close the Jang Jang Bridge
. Why? The people living there can't pass through properly when mobs of tourists occupy this narrow bridge for a souvenir photo. You may opt to have your breakfast at it's nearby eatery and just get a glimpse of this rustic bridge.
3.
Daclan "Badekbek" Sulfur Spring
- Badekbek Sulfur Spring is basically a small sulfuric bubbly muddy hot spring, whilst the name "Badekbek". The stench that is emmited is like the smell of rotten eggs but it becomes bearable after a while. The hot bubbling mud is believed to have some therapeutic effects. So if you have some bathing clothes and extra clothes with you, you may try to dip your skin with the gray warm mud pool (just a few meters to the actual boiling muddy sulfur) that is totally safe made for human enjoyment. (Entrance fee:
FREE
)
Itinerary
There are two itineraries—one for the
weekend (everyday) itinerary
and one for the
weekday itinerary
. Both itineraries include three side trips: Ambuklao Dam, Jang Jang Bridge, and Daclan Sulfur Spring. Which one should you choose? Don't worry I have listed some perks and catch for each to weigh down your options.
The Weekend Itinerary
... or as I call it the
Everyday Itinerary
as this schedule is available everyday.
PERKS of this schedule:
- More free time and ample rest for the whole afternoon on your first day
- More time to tour and take beautiful pictures around the gardens
- More time to immerse with the locals
- More accessible comfort to necessities that you need during the night
CATCH of this schedule:
- You need to get up as early as 12 midnight.
- The trek to the summit usually starts at 1:00 a.m.
- 4-5 hrs. hike to the summit
- Another 3-4 hrs. back down to the Ranger Station
DAY 01
05:00 a.m. - ETD for Mt. Pulag
07:30 a.m. - Stopover at Ambuclao Dam for sightseeing
07:45 a.m. - Proceed to Jang Jang
08:00 a.m. - ETA Jang Jang for breakfast.
09:00 a.m. - Side trip to Daclan Sulfur Spring
09:30 a.m. - Proceed to DENR Station
10:30 a.m. - Arrival at DENR Station for registration and orientation proper.
11:30 a.m. - Depart for Ranger Station.
12:00 n.n. - Arrival at Ranger Station, LUNCH
01:00 p.m. - Set-up Camp
03:00 p.m. - Free Time: go around the gardens, take pictures, shop, and immerse with the locals.
05:00 p.m. - Prepare for sunset
05:30 p.m. - Return to camping site and prepare for dinner
06:00 p.m. - DINNER
07:00 p.m. - Lights out
DAY 02
12:00 a.m. - Wake-up call
01:00 a.m. - Depart for Mt. Pulag summit for sunrise
05:30 a.m. - Arrival at summit, wait for sunrise
07:30 a.m. - Back to Camp 2 for breakfast
08:15 a.m. - ETA at Camp 2
09:00 a.m. - Descend to Ranger Station
12:00 p.m. - Arrival at Ranger Station, LUNCH
01:00 p.m. - Depart for DENR station
02:00 p.m. - Arrival at DENR station for log-out
02:30 p.m. - ETD to Baguio City
06:00 p.m. - ETA Baguio City
The Weekday Itinerary
Mondays-Thursdays only. Choose this itinerary if you want to camp in the wild at Camp 1 or at Camp 2. Again, this schedule is
NOT available
for Fridays to Saturday, and National Holidays.
PERKS of this schedule:
- Get up at 3 a.m. instead of 12 midnight.
- Just an hour or two hike to the summit.
- Ample rest because you won't hike for more than 7-8 hrs. (7-8 hrs. ascend and descend duration to the summit and back to the ranger station).
- More closer to the stars
CATCH of this schedule:
- You'll need to bring lots of things like your camping gears, clothing, and other necessities you need — which could really be HEAVY — up in the mountain.
- Freezing ice cold at the camp during the night.
- Prepare for five star latrine pits (cat hole and squat).
DAY 01
05:00 a.m. - ETD for Mt. Pulag
07:30 a.m. - Stopover at Ambuclao Dam for sightseeing
07:45 a.m. - Proceed to Jang Jang
08:00 a.m. - ETA Jang Jang for breakfast.
09:00 a.m. - Side trip to Daclan Sulfur Spring
09:30 a.m. - Proceed to DENR Station
10:30 a.m. - Arrival at DENR Station for registration and orientation proper.
11:30 a.m. - Depart for Ranger Station.
12:00 n.n. - Arrival at Ranger Station, LUNCH
01:00 p.m. - Start trek to camping site
04:00 p.m. - Arrival at camping site, set-up tent
05:30 p.m. - Depart for tower 1 for sunset (depending on fog conditions).
06:30 p.m. - Return to camping site
07:00 p.m. - Cook and eat
09:00 p.m. - Lights out
DAY 02
03:00 a.m. - Wake-up call, warm-up w/ hot coffee/tea
04:00 a.m. - Depart for Mt. Pulag summit for sunrise
05:00 a.m. - Arrival at summit, wait for sunrise
07:00 a.m. - Depart back for camp site
08:00 a.m. - Arrival at camp site, breakfast and break camp
09:00 a.m. - Descend to Ranger Station
12:00 n.n. - Arrival at Ranger Station, LUNCH
01:00 p.m. - Depart for DENR station
02:00 p.m. - Arrival at DENR station for log-out
02:30 p.m. - Depart back to Baguio City
06:00 p.m. - ETA Baguio City
Sample expenses & Disclaimer
Sample D.I.Y. 2-Day Expenses

| | Rate |
| --- | --- |
| RT Bus fare MNL-Baguio-MNL (per person) | P 910.00 |
| Taxi Fare to Slaughterhouse Terminal | P 150.00 |
| Van Fare from Slaughterhouse to DENR Station (per person) | P 150.00 |
| Entrance Fee (per person) | P 175.00 |
| Environmental Fee (per person) | P 150.00 |
| Camping Fee (per person) | P 100.00 |
| Habal-habal Fare to Ranger Station (per person) | P 250.00 |
| Guide Fee (per 1-5 persons) | P 600.00 |
| TOTAL | P 2,485.00 |
The above rates are
projected expenses
for a 2 days itinerary to Mt. Pulag.
I booked a budgeted
joiner tour
via a travel agency for just
P1,980
with three sidetrips, which includes shared van transportation (Baguio-Mt. Pulag-Baguio), 2 lunch meals (1st and 2nd day), all applicable fees (environmental, entrance, camping and tour guide), cookwares and eating set, first aid kid, personalized certificate of conquest, and all taxes and surcharges.
If you want a hassle-free tour to Mt. Pulag, I suggest booking your tour with
Agetyeng Travel and Tours
. So far this is the
cheapest joiner tour
that I have seen around. What I like about it is, even though we are only 4 in the group, the trip was NOT cancelled--unlike other travel agencies that requires a minimum number of participants to push trough. By the way the maximum participants per tour is 10 persons, so you have ample space in the van or monster jeepney.
My Mt. Pulag Tour with Agetyeng is paid for by me and NOT sponsored. I just couldn't recommend them highly enough.
Other notable attractions
Aside from the ever popular Mt. Pulag and unbeknownst to many, Kabayan also has its under-rated yet beguiling secrets waiting for one's eye to be discovered. These jewels are still a part of the Mt. Pulag National Park forest reservation and it is still considered sacred to the locals as Mt. Pulag. If you have another 1-2 extra days to spare, you might also want to count these worthwile places to your itinerary.
1.
Tabeo, Incolos, Latep-Ngapos and Ambulalakaw
Not fit to climb? No medical certificate? Don't worry, you can still see one of the secret beauty of Kabayan by taking the "
Tabeyo Trail
" which consists of the four lakes, known as: Tabeo, Incolos, Latep Ngapos, and Bulalacao/Ambulalakaw. No medical certificate required for Tabeyo Trail.
2.
Junior Pulag
The Place was called such because it resembles like Mt. Pulag itself, consists of mossy forests and grasslands trails but not as ginormous as it's father Pulag. Junior Pulag is a part of the Tabeyo Trail and one has to pass from Tabeyo Lake first to Junior Pulag, Incolos Lake to Latep Ngapos, then to the Bulalakao/Ambulalakaw lake.
3.
Mt. Tabayoc
Mt. Tabayoc towers at 2,842 MASL making it the second highest mountain in Luzon and the fifth in the Philippines. It is a dense trail with a huge portion of the trail dubbed as "Monkey Trail" as one has to duck, swing, hang on to vines, and tree branches. If you like a challenging yet one-of-a-kind mountain experience then you should definitely try Mt. Tabayoc. Medical certificate is required for Mt. Tabayoc. * Watch out for my next posts about the four mystical lakes and Mt. Tabayoc soon on the blog.
The verdict
There's nothing more intoxicating when the smell of the earth swallows you as you take one step foot forward further into a beguiling place. I can't recommend Mt. Pulag enough and if you can somehow get up there for sunrise, I wish you all the best and hope you get great conditions and enjoy the view.
What do you think of Mt. Pulag? Have you been to Mt. Pulag before? Did I miss something? I'd love to hear your thoughts in the comment box below.
Many homeowners seek to improve their living space with the help of home renovations and upgrades. However, you don't need to invest loads of time and money on expensive kitchen or bathroom remodels to create a better home environment.
Fortunately, there are many small and affordable ways to improve your home and increase your property value. To give you some ideas, here are some of the top simple home improvements to consider.
Repair any interior damage
It is natural for home interiors to start to show some signs of wear over the years. This may include chipped paint, cracks or dents in the walls and peeling wallpaper, along with other signs of cosmetic damage. These may seem minor, but interior damage can have an extremely negative effect on your home's visual appeal and may also decrease your property value if you decide to sell in the future. Fortunately, interior wall damage can be quickly and easily fixed with home repair kits. If your home interiors have significant damage, then you may want to consider hiring an expert to ensure that you get a smooth, professional finish.
You can easily find a local handyman by
searching for "home repair near me"
in price comparison sites. Make sure you shop around to get the best deals and don't forget to read customer reviews to ensure that you hire the best person for the job.
Give the walls a fresh coat of paint
Once you have a smooth surface, you should repaint your home interiors. Giving your walls a fresh coat of paint is one of the quickest and simplest ways to instantly freshen up your interiors and give your home a stylish new look. Traditional colors like white and cream can be used to make rooms appear bigger and brighter; repainting the ceilings in white will also have this effect.
Alternatively, you can choose to inject some style and vibrancy into your home interiors by painting your walls in dramatic rich shades like emerald, ruby and plum. However, you should keep in mind that painting all walls in dark shades can make rooms appear smaller. An excellent alternative is to create a striking feature wall using a bright color or patterned wallpaper. You can find plenty of advice on
tips on how to paint your home interiors
.
Tidy up your yard
The yard often gets overlooked when people are considering ways to improve their home. However, it's important to remember that your yard has a significant effect on your curb appeal as it's often the first thing that people see as they approach your home. If people see a messy unkempt yard, then they're likely to have a negative preconception of what the inside of your home is going to be like. According to property advice on
realhomes.com
- "A well-maintained front yard will make a house look cared for - and in buyers' minds, a well-cared for exterior means a well-kept interior.""
Sprucing up your outdoor space with some key yard maintenance can therefore be an excellent way to improve your curb appeal and increase your property value. What's more, creating an attractive yard will encourage your family to spend time outdoors together on warm summer days. You should also consider adding furniture like tables, chairs and sun loungers to create the perfect outdoor entertaining space. If you want to give your yard a truly impressive makeover, then you should consider hiring a professional to do a landscaping project.
Install a shed
Installing a shed on your property can offer a huge number of benefits - it creates additional space, provides a secure place to store valuable items like garden tools and bicycles, and could make your property appeal more to potential buyers. You should also keep in mind that sheds don't just have to be used for storage; you can easily convert a large shed into an office, home gym or hobby room.
Many companies deliver sheds in flatpack so you can install them in your backyard yourself. This makes the project affordable and a great investment for any homeowner.
As you can see, you don't need to spend lots of time and money on major renovations to improve your home. There are many easy and affordable ways to create a better living environment for you and your family and increase the value of your property if you decide to sell. Try a few of these simple improvements and see the difference they can make to your living space.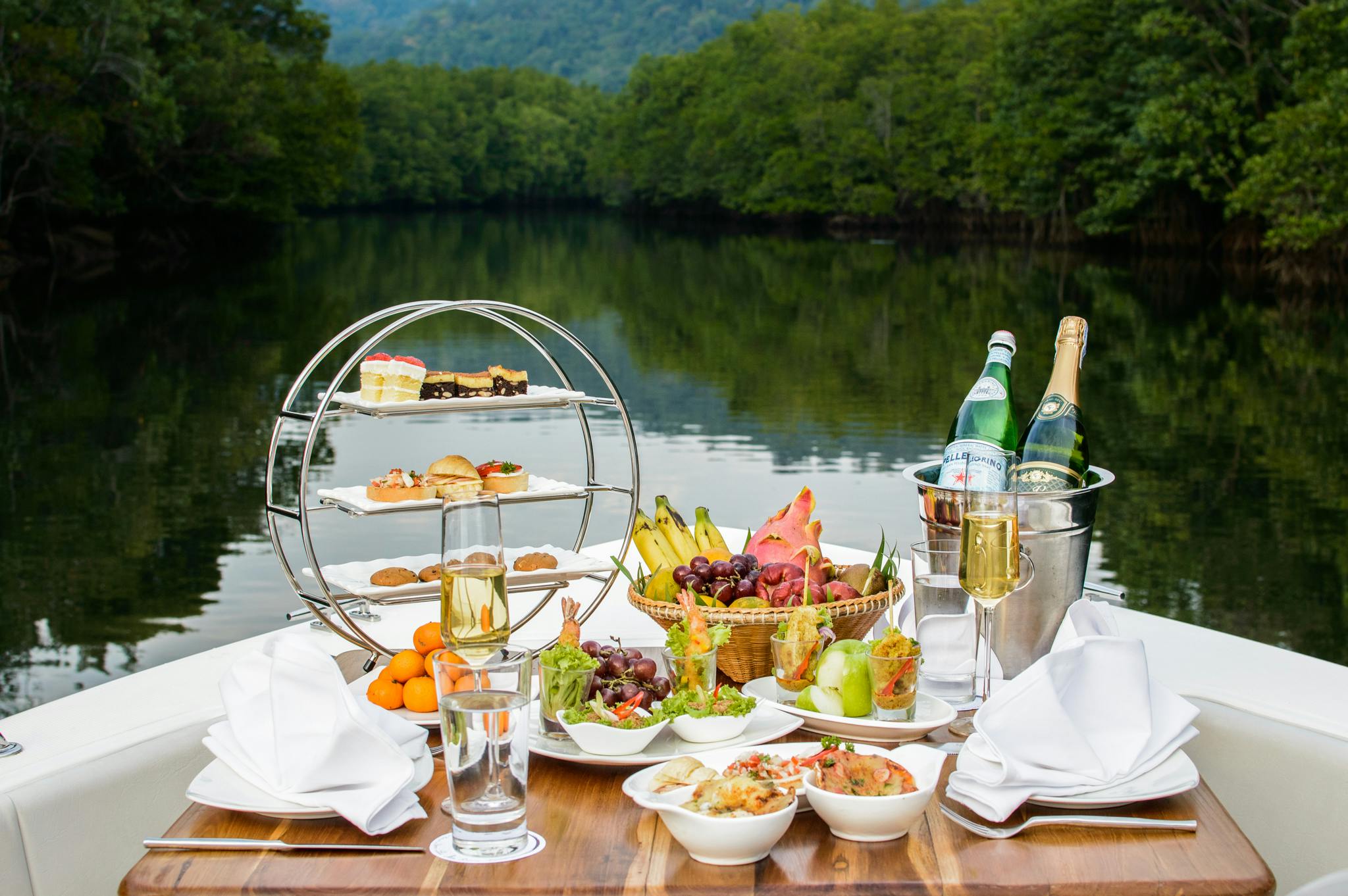 If you're a bit of a foodie then you won't be disappointed in Miami- named one of the top food cities in America there are more restaurants, cafes and eateries than you could ever work your way through. However, what if you fancy doing something a little different? Maybe you're looking to save money, or perhaps you just want to explore other options. If so, here are some alternative ways you can munch in Miami!
Enjoy a meal on a yacht
A yacht is far from a budget option, in fact everything about a
boat charter Miami
oozes luxury and class! However, don't instantly assume that something like this is out of your price range. If you're travelling with a group, renting for a few hours and splitting the cost can work out less than you might think. For example, even a yacht costing $150 an hour works out at less than $20 each if you're sharing with seven other friends. Most of these come with a captain to drive for you and allow you to bring your own food and drinks on board. Hire for a couple of hours and you can enjoy some food or nibbles and drinks on the water while overlooking stunning views- what could be better?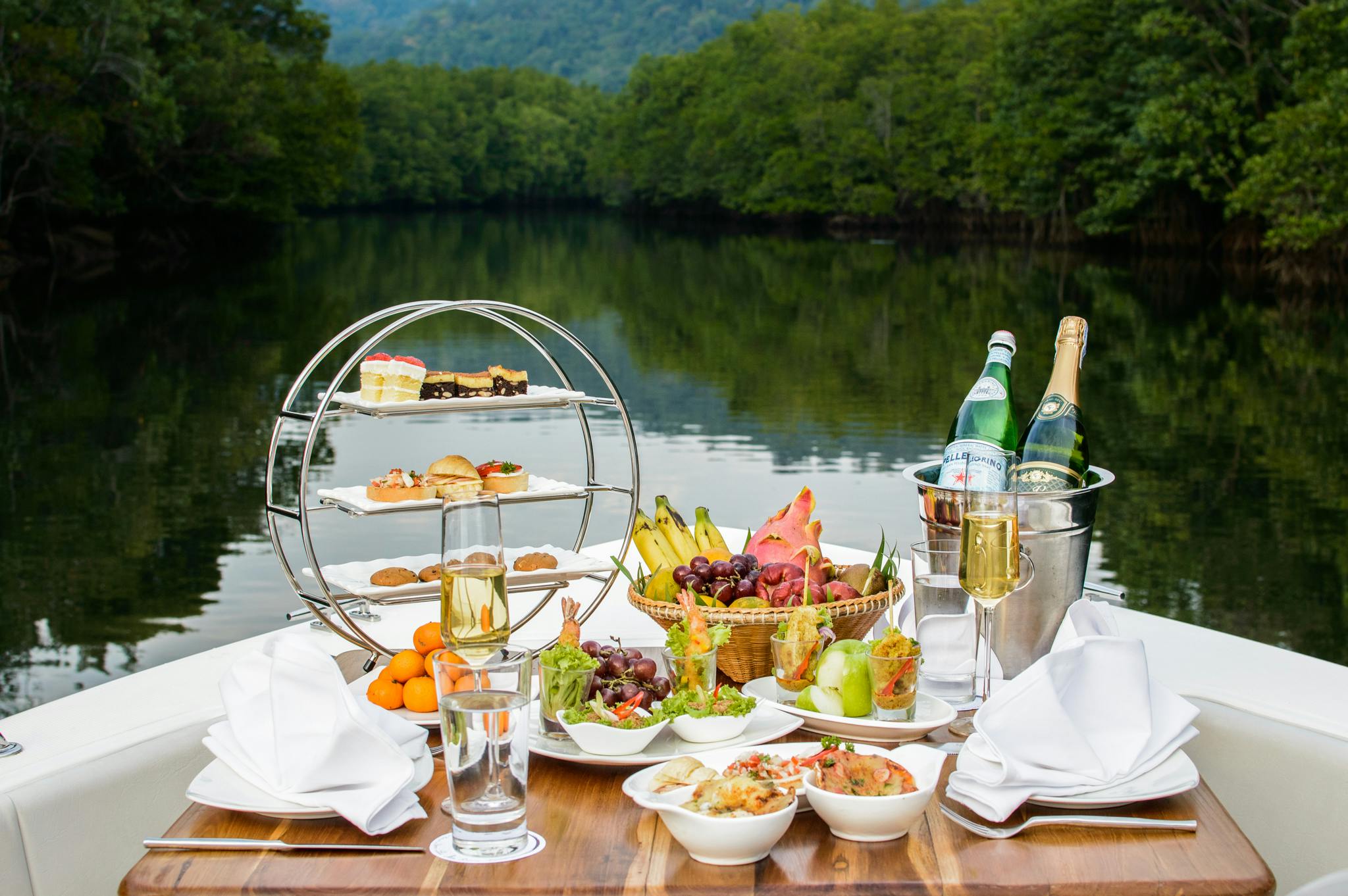 Go for a picnic in the park
Miami might be most famous for its city and beaches, but there are plenty of incredible parks and green spaces to enjoy while you're there. Take a walk around
botanical gardens
, and through pretty manicured parks. Bring a picnic and make a day of it in the sunshine, taking in all of the flora and fauna. It's inexpensive and something a little different you could do on one of the days of your trip.
Barbeque on the beach
Speaking of the beach, when you visit Miami you're of course going to want to spend at least some time there. There are tons of
barbeque and grill places
you could go to, but if you enjoy grilling yourself then you could always buy a disposable and cook some food right on the beach. Another option would be to join a guided kayak tour, one in particular held on Saturday nights takes adventurous foodies across Biscayne Bay, right through the islands to see the sunset. Then you move on to Monument Island where you'll roast sausages and smores on a bonfire, with music and drinks.
Buy ingredients from a market and prepare your own
Are you staying in Miami on a self catering basis? Perhaps you're renting a villa or apartment and will need to sort your own food arrangements. There are tons of markets in and around the city where you can buy the freshest of ingredients and cook them yourself at your accommodation. Enjoy the delicious fresh seafood, meat and vegetables- you could even have a go at cooking authentic Miami dishes like churrasco, Cuban sandwiches, stone crabs and Arepas.